I recently got back from the annual CSW Coaches Conference hosted by MMA coaching legend Erik Paulson at his gym in California. It was a great experience and I learnt so much from many high level Martial Artists.
The first day we got there we trained in the regular evening classes which consisted of one session of Nogi Catch-wrestling/ CSW, followed by an hour of GI BJJ and then another hour and a half of MMA training afterwards.
Thursday was the first day of the CSW coaches conference and the event kicked off with a seminar from Coach Rigan Machado. This was probably one of the busiest seminars I've ever attended including around twenty BJJ black belts on the mat. This seminar focused on a lot of interesting submission set ups from side control and north south position.
The afternoon seminar was taught by Coach Rick Young. I'd always wanted to train with since reading his Articles and interviews in martial arts magazines back in the early 90's. This seminar focused on Judo Newaza style submission attacks from Turtle position including several armlock entries and the Judo Sangaku Jime Turtle Triangle attack. There was some really great details and instruction on this position and lots of pointers that will make a huge difference to my training.
That evening we also took part in the CSW Nogi grappling classes and the BJJ Gi classes.
Fridays sessions were taught by Coaches Erik Paulson and Greg Nelson. These guys are in my opinion the two best and most knowledgeable MMA coaches in the world and have between them trained many of the most successful fighters in the history of the sport. It was great to be able to learn directly from them about all the details of their system and training methods. One of the things that impressed me most was that even though they are two of the leading experts in the sport they were constantly on the the mat learning from all the other coaches and instructors while taking notes and asking questions.
On Saturday we got in early to take part in the Boxing class which was taught by coach Freddie Jin. This was a very interesting and technical session which covered a lot of the intricacies of the close range Mexican style power punching. After that was the Muay Thai / MMA Striking seminar taught by Coach Greg Nelson and Coach Ben Jones. Ben is the coach of the CSW Pro Fight Team and has been a great source of advice for me in the past with regards to training fighters and creating the right kind of culture for a fight team. This session was a great blend of the traditional Muay Thai style of striking with the cutting edge MMA style.
The afternoon seminar was taught by Savate Instructor Nicolas Saignac and covered lots of great footwork and movement drills. Coach Erik Paulson has always been a big exponent of blending the various striking styles of Muay Thai, Boxing and Savate into his own unique blend known as STX kickboxing. The last session on Saturday was another GI Jiu-jitsu session where all the visiting black belts taught one technique to the group. This was a great opportunity to learn from so many different instructors and I showed everyone my variation of the Back Control Straight Jacket position.
Sunday was the last official day of the training camp and was kicked off with a very interesting session with old school Jeet Kune Do instructor Sifu Tim Tackett. Coach Erik Paulson and the entire CSW organisation have a strong connection to JKD with Erik being an original student of Guro Dan Inosanto so it was great get this exposure to some authentic JKD which has been so influential in the development of modern day MMA.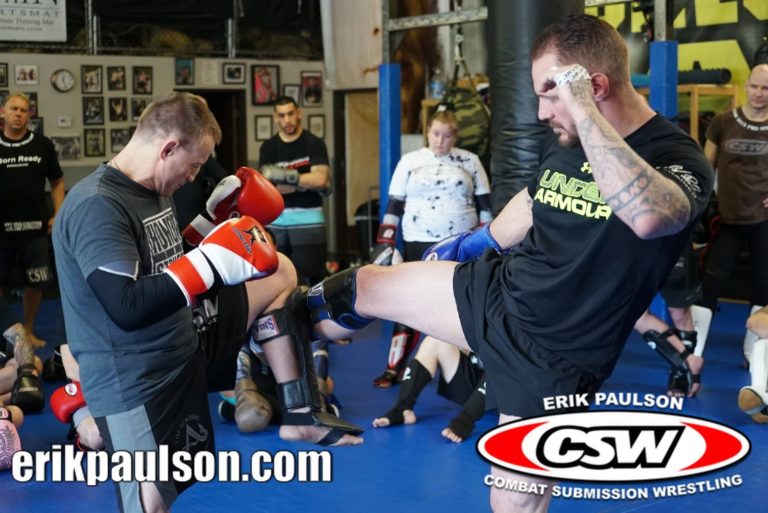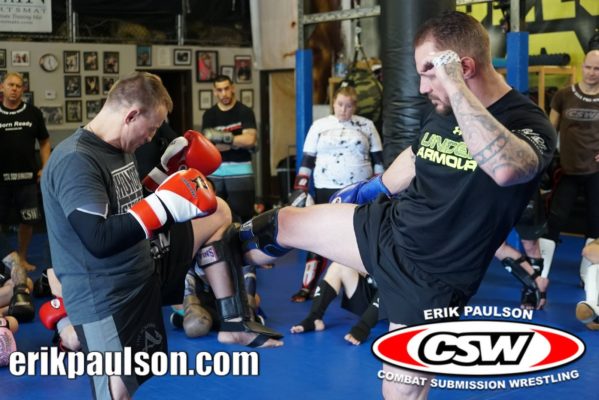 Sunday afternoon was a wrestling session focusing on takedown set ups and combinations taught by Coach Fergus Mc Taggart.  This session covered lots of great details on the double leg takedown and lateral drop takedowns and we got a really good insight into the coaching and teaching methods used to produce top level wrestlers. Then we finished off Sunday afternoon with some more Catch wrestling submission techniques taught by Coach Erik which flowed on from the takedowns.
Monday was my last day in California but we still made it into the Gym on Monday morning where my training partner Phil took part in the Pro Fight Team Training run by Coach Ben while I helped out play the role of Uke for Coach Erik in a photo shoot and technique demo for JiuJitsu Magazine.
It was a very busy five days but I learned so much in terms of techniques, training methods and experience that I will be able to implement with my team and students over the next twelve months.